Dec 18, 2012 · 7 minute read · Comments
chessPittsburghPittsburgh Chess ClubpsychologyNimzo-Indian Defensesick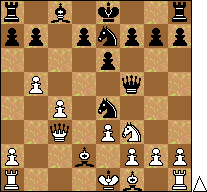 Last week in round 5, I reported on a disastrous game I played in which I was mentally unbalanced and lost, for the second time in the current Pittsburgh Chess Club tournament, a game in which I was winning and went into an endgame one Pawn up.
In this week's game, I also ended up in an endgame one Pawn up.
But I played pragmatically this time. I'll explain what that means and why it is important.
Read On →