An early start on Cathedral of Learning stair climbing
Oct 29, 2013 · 2 minute read · Comments
exerciseCathedral of LearningPittsburghFight for Air Climb
After work today, I had gone to the Carnegie Library of Pittsburgh, main branch in Oakland, to pick up some books, when I looked across Forbes Avenue and saw the Pitt Cathedral of Learning. Primed by Becky's message today about forming a team again for the Fight for Air Climb at One Oxford Centre in downtown Pittsburgh, for next March, I suddenly decided to do the 36-floor stair climb of the Cathedral of Learning to "officially" begin my training for that event!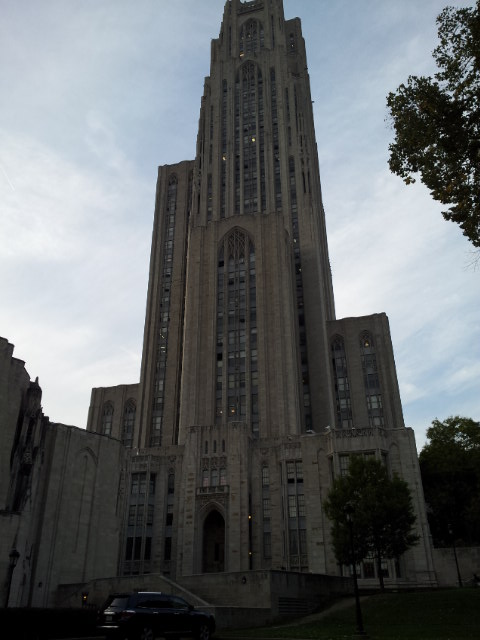 I'm getting an early start this year on training for the Fight for Air Climb: last year, I didn't even think about that event until I saw a poster for it during my first Cathedral climb in years, right after Christmas. So I'm going to have an additional two months of training.
Going up
Unfortunately, in addition to my not having done the Cathedral climb in probably over half a year, I was wearing my work clothing and shoes and a backpack full of heavy books, so the climb was rather strenuous and sweaty. I even "forgot" to go to the 36th floor and got off at the 35th instead (no big deal).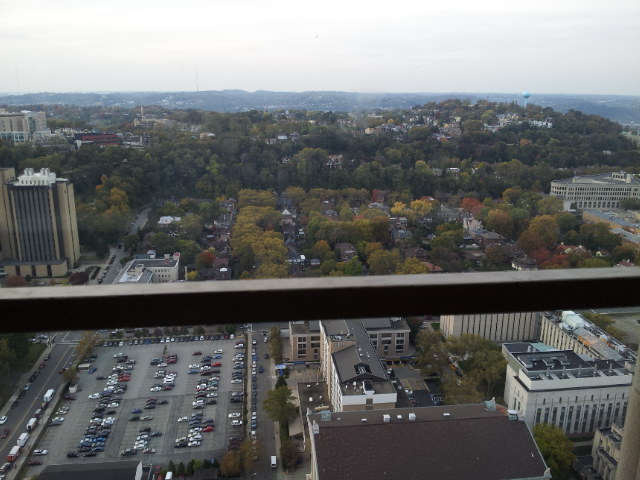 Going back down
Once at the top, I didn't stop to rest, because I wanted to get home quickly for dinner. Unfortunately, lots of people were already on the elevator when it came down from 36, and after I got on at 35, we kept on stopping to pick up others, and I felt very uncomfortable being sweaty and packed into the elevator near the back.
(Update of 2013-11-03)
Three days later, I did the Cathedral climb again, and did take the stairs, but experienced a surprise.