My end-of-summer vegetable medley recipe
Sep 17, 2012 · 2 minute read · Comments
foodcooking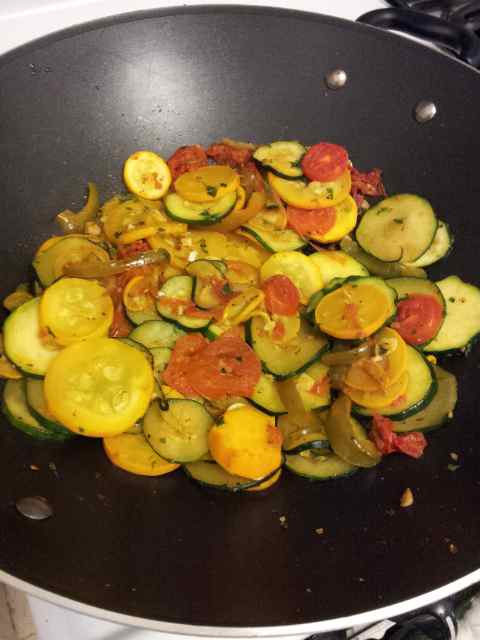 I whipped up what I'll call my "end-of-summer vegetable medley" (since summer is basically over now), using ingredients we happened to have on hand, from Kretschmann Farm as well as from Abby's parents.
Recipe
Equipment
Large skillet (I happened to use a wok)
Ingredients
Oil for high heat (I used coconut oil)
One green pepper
One green zucchini
One yellow zucchini
One tomato
Garlic, one large clove
Seasoning mix (I used sea salt and Trader Joe's 21 Seasoning Salute)
Fresh cilantro
Extra virgin olive oil
Preparation
Green pepper: slice into strips.
Green zucchini: slice into thin coins.
Yellow zucchini: slice into thin coins.
Tomato: slice thinly.
Garlic: crush and mince a large clove (or more if you prefer).
Cilantro: chop up a bunch of fresh cilantro.
Cooking
Once the ingredients are ready, the rest only takes a few minutes at high heat.
Heat the oil in the skillet to high heat. When the skillet is ready, put the green pepper and zucchinis into the skillet and toss/stir to coat with oil. Then add the seasoning mix and continue to toss/stir for a while.
When the vegetables look to be half done (to your liking; I prefer them to retain some bite rather than be soggy), add the tomato and garlic and continue to toss.
When everything is almost done, add the cilantro and toss/stir briefly, then turn off the heat.
Add extra virgin olive oil.
Enjoy!