Oct 19, 2011 · 5 minute read · Comments
minimalism
Yesterday, I talked about use of time. Today, I am talking about space.
I have too much stuff.
I know that. I've known that for years. I've not been happy about it. But I've also not been happy about getting rid of my stuff. When I got married, I had to get rid of probably half of my stuff, to make space for Abby to move in, but I did not part with them happily.
And I still have too much stuff. I've been promising to get rid of more, but have dragged my feet on the project.
This time is different.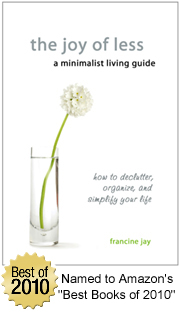 Read On →